In-Cage Mouse Running Wheels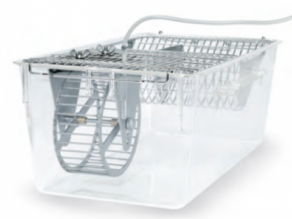 Low-profile stainless steel running wheel that fits inside an animal cage. allows use of filter top lids and standard cage racks while monitoring.
Fully Integrated with VitalView Activity Software
No Tools Required
Contained Entirely Within the Cage
Filter-Top Compatible
Commercial Grade Stainless Steel Wheel
Compatible with autoclave and cage washing machines
Low Cost Wheel Solution
Request a Quote
Learn More About In-Cage Mouse Running Wheels
Benefits of the In-Cage Running Wheel
Stainless Steel
Built entirely out of stainless steel to eliminate rusting.
Bronze Bushings
Designed for durability, smooth quiet rotation and immunity to dust from bedding materials.
Commercial Cage Washing
Cage assembly is compatible with commercial cage washing systems
Filter Top Compatible
Allows the use of standard cage filter tops and rack storage systems
Provides Enrichment
Provides enrichment to subjects while providing measurement of activity